What do you think of when you see this logo?
McDonalds – 1000 calorie big macs.
Nike – Just do it.
Disney – They lived happily ever after.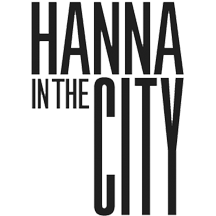 Hanna in the City – Question mark.
Madame Toastmaster, Fellow Toastmasters and Welcomed Guests,
Let me tell you a story about Hanna in the City.
It all started at the yacht club one night. It was right after race night, all the sailors were sitting at one table having dinner together. It was then that one of them began badmouthing all Realtors. I let the conversation play out, trying to decide whether or not it was a good idea to confess that I, myself, was a Realtor. At the last minute, I chimed in "I'm a Realtor." That ended the conversation quickly. An awkward silence followed.
Why were all Realtors grouped together into the same category? Why was the perception that they're all salespeople cold-calling strangers and chasing commission cheques? Better yet, how can I succeed in this field and change the negative perception into a positive one?
I didn't want to be that stereotypical Realtor. Dialing a random phone number, and asking anyone with a pulse if they were thinking about buying real estate in the next 1-3 months made me cringe. I'd rather work at McDonalds.
The exams for a Real Estate license are easy enough for a fifth grader to pass and there are 35,000 Realtors in the GTA. I needed to differentiate myself from the bad ones. Thankfully, I have a BBA with a major in Marketing. I also spent two years of my life working at an ad agency until I finally couldn't take it anymore and quit spontaneously in pursuit of a happier life. 
However, I learned skills I still use today to promote my business in a good light. 
I was qualified to create my own brand but I still had to decide what kind of a person did I want to be for myself, and for my clients? I simply wanted to be myself, honest and genuine and I wanted to treat my clients the way I would like to be treated. I wanted to create an all around happy experience for my clients, and I figured out how to do that in two steps.
Step one:
Decide on who do I work for and why?
I narrowed in on a demographic: Young Urban Professionals. I narrowed that down. 25-35 year olds who work downtown and want to live downtown. I narrowed that down even more: My friends, and my friend's friends.
Why work with my friends? Because I love my friends. My friends already know I want the best for them, so it makes it very easy for them to trust me.
Helping my friends find their dream home, not just a house, makes me happy. The old adage about happiness is true, do what you love and rest will work out for you.
It's funny how that works. While it did take some time, my business developed into referrals only. Friends tell their friends, who become my friends, and so my business grows.
Step two:
Start with one client and treat them how you would like to be treated. You must work towards understanding them and what constitutes their happiness. Every single time they are with you, they know that you genuinely want what's best for them.
In order to foster that genuine relationship I teach my client everything there is to know about real estate. Answer his questions before he even thinks to ask them. He will feel informed and have confidence in me.
Hanna in the City – A happy real estate over-educator
Back to the story about the sailor who hated Realtors.  About a year after the initial rant, that same sailor approached the newly minted Hanna in the City and referred one of his best friends to me. I must have broken out of that stereotypical mold. My brand had changed his perception.
Take a moment to think about your brand, your personal brand. Who is the person you want to be tomorrow? Start being that person today. Think three words that describe the person you want to be. Write them down:
Optimistic
Spontaneous
Imaginative
Every decision you make, ask yourself if it's in line with those three words. Be those three words everyday, and you will become the person you want to be.
Just do it.
THE PRECEDING COMMENTARY IS THE OPINION OF HANNA MACDONALD AND DOES NOT REPRESENT THE INTERESTS OR OPINIONS OF RIGHT AT HOME REALTY INC., BROKERAGE OR THE TORONTO REAL ESTATE BOARD. THEREFORE, RIGHT AT HOME REALTY AND THE TORONTO REAL ESTATE BOARD WILL NOT BE HELD RESPONSIBLE AND/OR LIABLE FOR ANY OF THE OPINIONS HEREIN.